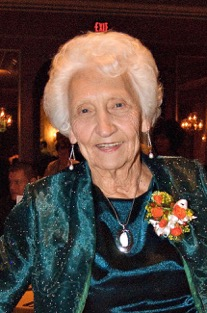 Violet "Vi" Janelle Gipson
Published May 23,2016
Obituary's Biography:
Northwest Herald- Tuesday/Wednesday May 24/25, 2016 Edition
Violet "Vi" Janelle Gipson, 85, passed away on Friday, May 20, 2016, with family by her side. Violet was born July 21, 1930 in Lemmon, South Dakota to Walter Rook and Viola Smith Rook. She graduated from Libertyville High School in 1948. Violet worked as a dispatcher and retired from Ritzenthaler Bus Lines in Mundelein. Violet is survived by her children Larry Gipson (Deborah McGregor) of Fox Lake, IL, Janis (Mike) Culat of Trevor, WI, Susan (Larry) Sancken of Mundelein, IL, Debra (William) Kautz of Ingleside, IL, Cheryl (Jack) Bowes of Grayslake, IL, and Vicky (Glen) Stevens of Trevor, WI. She is also survived by her grandchildren Michael, Jennifer, Scott, and Kristen Krueger; Gregory, Douglas Gipson, Jodi Rosebach; Joe Murray; James Sancken, Jacquie Ochs; Kelly Jo McGinley, Michelle Kautz; Brian Miller, John (Jack) Bowes III, Brooke Bowes; Shauna Thayer and Kristy Barlass. In addition, she is survived by great-grandchildren; Rita Krueger; Tori, Wiley and Ryan Krueger; Mathew and Casey Gipson; Weston and Madison Donnelly; Travis, McKenzie and Tyler Sancken; Rylee, Sydnie and Justin Ochs; Cora and Harper McGinley; Zoe and Reese Miller; Brady and Ashton Thayer; and Sophia and Blake Barlass. She was predeceased in death by her husband, Joe E. Gipson; her parents, Walter Rook and Viola Smith Rook; her brother Clifford Rook; and sisters Hazel Rook Knuth and Lois Rook Shelter. Violet enjoyed square dancing, bowling, crafts, music, reading, sewing and horses. She will be always remembered as a loving mother, grandmother and aunt whose greatest passion in life was her family. There was nothing that gave her more pleasure than having her family together. The strength, beauty and unconditional love that she possessed will live on through those who knew and loved her. A celebration of her life will be held on Thursday, May 26, 2016 at Strang Funeral Chapel, 410 E. Belvidere Road, Grayslake, IL. 60030 from 10AM to 12PM. The funeral service will commence at 12PM . Interment will follow at Willow Lawn Cemetery, 24090 N Highway 45, Vernon Hills, IL. 60061 Anyone wishing to send a memorial in Violet's name may do so to the Ronald McDonald house Charities of Madison, 2716 Marshall Court, Madison, WI 53705 or www.rmhcmadison.org. For information, please call 847-223-8122 or log on to www.strangfuneral.org.