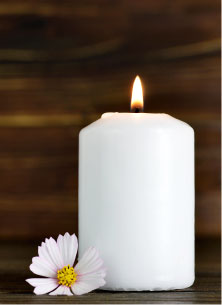 Bernice J. Stelter
Published November 05,2021
Obituary's Biography:
Bernice Judy Stelter, age 89, a resident of Grayslake, passed away on November 2, 2021 at Condell Medical Center in Libertyville, IL. She was born on October 28, 1932 in Chicago to Mathilda Werner Stelter and Adolph Stelter.
Bernice was a resident of Saddlebrook Farms in Grayslake for the past 29 years, she was born and grew up in Chicago, attending St. Luke's Christian Grammar School and the Luther Institute for high school.  She spent her working life serving in office administrative capacities until her retirement at age 65.  One of her great joys was working in her home garden planting and caring for her flowers, and she enjoyed playing bingo each week.  She was an active member of Lord of Glory Lutheran Church in Grayslake, and dearly loved Tobias, their Lutheran Church Charities Comfort Dog. 
Bernice was a devoted aunt to niece, Jeanne Weyer Taschetta; nephew, Robert (Carol) Stelter; and great niece, Elizabeth (Dan) Corcoran. She was preceded in death by her brother, Walter L Stelter; her sister, Dorothy Stelter Miser; and her parents.
A memorial service will be held at Lord of Glory Lutheran Church, 607 W. Belvidere Road, Grayslake, IL 60030 at 11:00 a.m. on Thursday, November 18, 2021. Interment will be held at St. Luke's Cemetery in Chicago. In lieu of flowers, memorial contributions may be made to Americas Vet Dogs, Nature Conservancy, or Lord of Glory Comfort Dog Ministry. All funeral arrangements were entrusted to Strang Funeral Chapel, 410 E. Belvidere Road, Grayslake, IL 60030. For more information, please call (847)223-8122.